Visit the  'East & Mid Devon' website for the East and Mid Devon Community Partnership news. This is a group of local agencies working together to reduce crime and disorder and the fear of crime locally. You can also access the newsletter and minutes of local action groups.
Tel. 01884.234997
www.middevon.gov.uk/communitysafety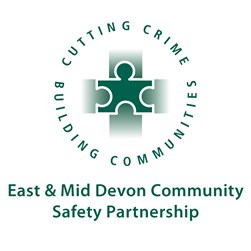 The East & Mid Devon Community Safety Partnership held their annual conference on Wednesday 5th April 2017. There were talks on drug and alcohol addiction support, first offender support and modern slavery. The Police and Crime Commissioner for Devon, Cornwall and the Isles of Scilly, Alison Hernandez, spoke about the Police and Crime Plan for 2017-2020. A full report on the Conference can be read below.
East & Mid Devon Community Safety Partnership
Annual Conference on Safeguarding Awareness 
(Members of the Community Safety Partnership include representatives from statutory and voluntary organisations as well as from the business sector.)
Wednesday 5th April 2017
Broadclyst Village Hall
Attended by Carol Hayes (on behalf of Offwell Parish Council)
All the power point presentations can be found on:
www.middevon.gov.uk/residents/community-safety/east-mid-devon-community-safety-partnership/csp-conference-2017/ 
Introduction and Police Update, Chief. Insp. Sarah Johns,
Chair of E&MD Comm. Safety Partnership
Priorities are safeguarding children and safeguarding adults with a recent focus on modern slavery involving more vulnerable people.
The changing face of crime – 80% now focussed on cybercrime/sexting/on-line harassment/revenge porn/modern slavery.
The changing face of the Force – austerity (achieving more with less) There will be more emphasis on embedding 'police volunteering': special constables and street pasters. A new PCC plan will focus on the strategic alliance (working with cross border Forces in Dorset and Avon & Somerset) and working with partners, ie non policing agencies.
A new neighbourhood approach will deliver the plan for the next three years.
In 2016/17 an increase in East Devon car crime, Exeter's fire and the NI Royal Marine terrorism case were a hug draw on resources.
"The changing face of policing is responding to the changing face of crime."
Partnership Priorities and Achievements, Gerry Moore
Email: communitysafety@middevon.gov.uk  
The power point presentation covered current CSP priorities and activities including:
Mediation/vehicle related anti-social behaviour (eg Seaton car park; cctv now in operation)/domestic abuse healthy relationship quiz leaflets/domestic abuse pattern changing courses/e-safety workshops including schools (games such as 'Grand Theft Auto' which has a couple having sex in the lower right hand corner)/'Last Orders' Play/RISE Hub in Axminster (Recovery and Integration Service – drug & alcohol addiction)/padlock alarms/modern slavery training (one in Honiton)/ CEOP (Child Exploitation and Online Protection) training for practitioners, taxi drivers etc. (the people best placed to witness possible issues).
Additional priorities in 2017/18 include hate crime/communications (social media).
Proposed initiatives for 2017/18 include domestic abuse awareness week (inc. a till receipt campaign – domestic abuse support information on the back of Argos shop till receipts for 12 weeks leading up to Christmas)/ 'Chelsea's Choice' (Parishes Together funding for year 8 children on child sexual exploitation).
RISE Hub, Axminster, George Dale, Team Leader
Police in Axminster identified drug user crimes – pleaded lack of accessible treatment and together with town and district councillors identified a building and volunteers and approached RISE (already in Axminster).
The RISE Hub delivers an 'invitation' to coffee and bacon sandwiches once a week. The Hub provides a drop in centre/assessments/one-to-one sessions/support/travel expenses. Outcome: reduces desperation and need for crime.
Kay, a team leader, and Church Minister, talked about acceptance and the importance of hospitality and welcome. She likened their work to that of a 'spiritual WI'.
I understand there are similar groups in Honiton: at the Beehive and at the King's Centre. For more information go to:
www.tcch.org.uk  The Community Church, Honiton, offers similar support to the RISE Hub in Axminster.
www.addaction.org.uk contact details for RISE in Exeter, East & Mid Devon – Tel. 0300.303.3384
www.edp.org.uk  For drug and alcohol services in the Exeter area
Bthechange, Support for First Time Offenders and their families, Josh Stunnel
Josh Stunnel set up Bthechange after his own personal experiences as a first time offender. Their vision: "To close the re-offending door revolving door before it starts spinning". They provide: support, engagement and transition.
The power point presentation on the community safety website (as above) gives a clear overview of their work and outcomes.
Modern Slavery, Insp. Julian Pezzani
As part of the changing face of crime and the changing face of policing the power point presentation (website as above) includes the complex legislation in the
Modern Slavery Act 2015, what forms of slavery exist, victims' national and local picture, what's being done and how you spot the signs.
13,000 people were trafficked into the UK in 2016. Types of trafficking include forced labour (caravan parks, take-away, car wash, charity collections etc.), sexual exploitation, benefit and wage fraud, (multi occupancy housing), criminality, domestic servitude, exploitation. There were cases of all the above in Devon last year.
"We all have a responsibility to keep our communities safe. Violent extremism, modern slavery and sexual exploitation are issues that affect people in Devon every day."  The 'Be Curious' campaign video can be found on: www.youtube.com/watch?v=DzP39erLtxY
 Police and Crime Plan, 2017-2020, Police and Crime Commissioner, Alison Hernandez
The Chief Constable, Shaun Sawyer, is the national policing lead for modern slavery.
Devon & Cornwall Police have received £8.5million from the government to fund the national team based in Exmouth.
The key priority of The Police and Crime Plan for 2017-2020 is: Connecting communities and policing – the local Policing Promise.
They will be Accessible, Informative, Responsive and Supportive. The full version of the plan can be found on:
www.devonandcornwall-pcc.gov.uk/about-us/police-and-crime-plan/  
 The Commissioner talked about 'connecting communities', 'looking to find a better balance for rural communities', 'finance sharing with Dorset', 'a small rise in the precept' and the fact that 'some PCSO's will transfer to other roles within the Force'.
The decision to cut large numbers of PCSO's was made by the Chief Constable, not by the Commissioner, but nowhere in the plan is it clear what local policing will look like in the future. I quote from the Plan handout:
"The public's perception of what constitutes local policing is often their local neighbourhood beat manager (NBM) or police community support officer (PCSO). When the public call the police for assistance, most often, it is a local response officer who will attend. When a crime or incident needs to be investigated – it will probably be officers or specialist police staff from local investigation teams. Teams from roads policing and armed response also work locally. 
In delivering the Local Policing Promise, in particular the promise regarding 'Responsiveness', it is important to consider all these police roles, not just neighbourhood teams." 
When I asked the Commissioner how the key priority of 'connecting communities and policing' (in a more proactive sense) could happen if rural areas lost their PCSOs, answers came there none. I did, however, receive a round of applause and individual thanks from the PCSOs present.
I got the strong impression that crime awareness and support will, in future, come from the Community Safety Partnership team, namely Gerry Moore and
Julia Ryder on: jryder@middevon.gov.uk 
Mark Tyler is the PCC Communications and Engagement Manager, Community Link Officer for East Devon. He can be reached at:
Mark.tyler@devonandcornwall.pnn.police.uk